PlantUs is dedicated first and foremost to improving lives through the installation and maintenance of beautiful, sustainable, and energy-efficient urban gardens and custom planters. We are committed to advancing the notion that sustainability can coexist with innovation. Through the use of green roofs, our patented lightweight planter design, and other technologies, we at PlantUs are working towards making the Manhattan skyline more sustainable, one project at a time.
Lawrence Shepps, the founder of PlantUs, has worked in urban horticulture and design in New York City for his entire 35-year career. After receiving his bachelor's degree in environmental health at the University of Georgia, he obtained a master's degree in horticulture at Clemson University. After a brief period owning and operating a wholesale sprout enterprise, Larry was given the opportunity to design a landscape in New York City, where he found his niche designing unique gardens in urban settings. He soon founded his own horticulture contracting firm and, over time, has been awarded planter patents, sparked innovations, and designed some of New York City's most high-profile green space, from the plaza at One Penn at Madison Square Garden to the authentically wild habitats at the Bronx Zoo.
Laura Sauer is the Vice President of Sales and Marketing for PlantUs. She brings over 10 years of experience with both direct sales and marketing management, in corporate and agency environments. Prior to PlantUs, Laura worked as a Senior Account Executive for an energy efficiency and building automation provider, where she provided sustainability and efficiency services for her clients in the New York tri-state area. As a natural connector, she enjoys collaborating and developing partnerships with other AEC professionals, and is an Associate Member of the American Institute of Architects. When she's not working, Laura likes to spend her time exploring New York, trying off-the-beaten-path restaurants. She is also an avid contributor to The Nibble, a gourmet online food magazine. Laura has a BS in Interior Architecture and Design from Indiana University.
Eli Kapsack is the Chief Operations Officer of PlantUs. Born in San Francisco, Eli has been captivated by nature and greenery since he attended summer camp in Yosemite national park as a child. Before obtaining a degree in Green Architecture and Design from NYU Gallatin, Eli took a gap year and travelled to Ecuador, India, South Africa and Thailand, where he learned farm to table practices and the values of organic farming within communities . During his free time, Eli enjoys exploring New York City's underground art and music scene as well as visiting museums and taking in the culture and architecture of the city.
Joann Rivieccio is the Chief Financial Officer for PlantUs. She has been with the company for over five years and expertly handles payroll as well as any other internal financial information. Joann started working in her father's business of structural steel. She has been working since she was 13 answering phones, and eventually helped bring the business online. Joann's favorite flower is the Gardenia.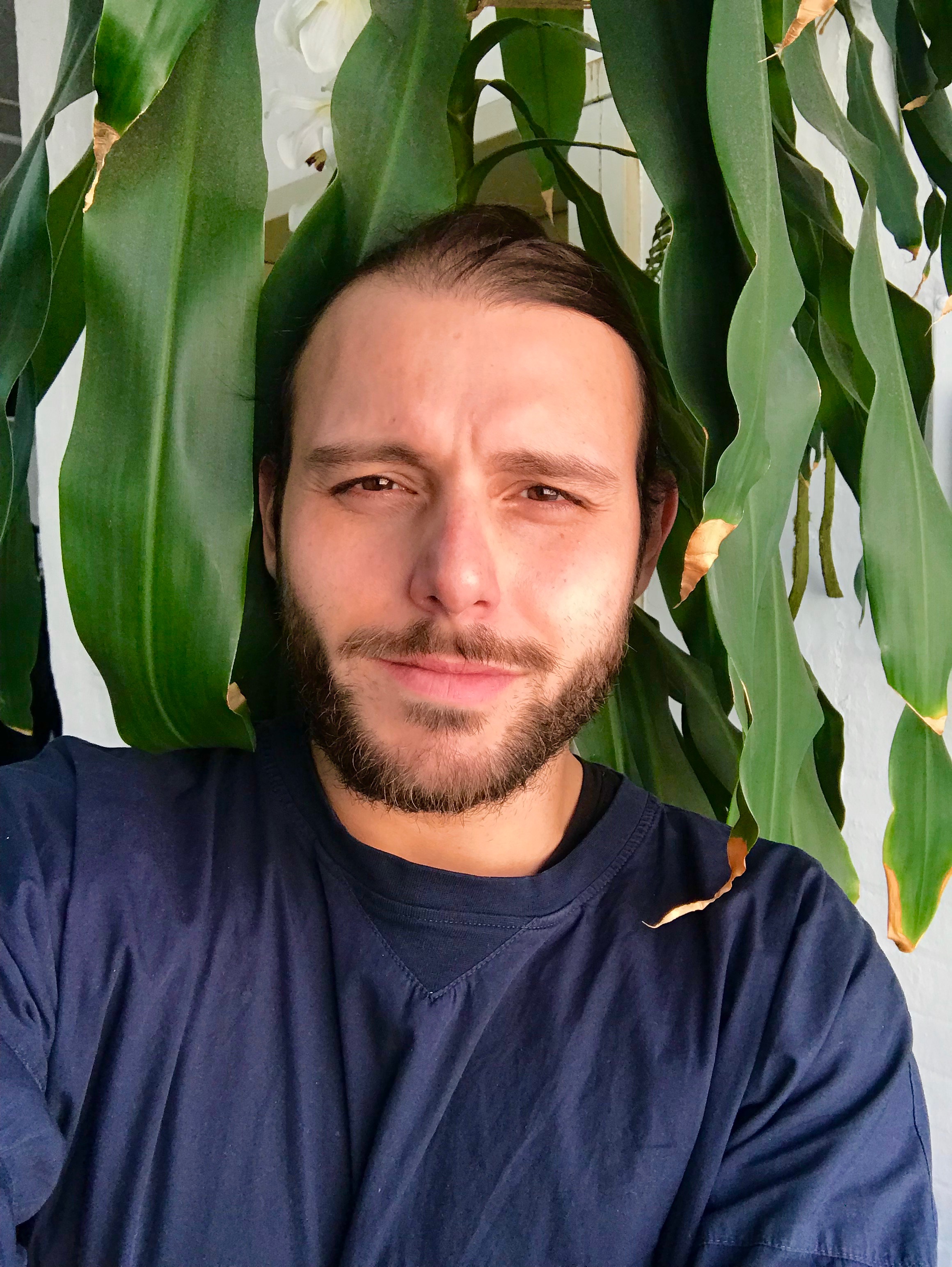 Dwight Portocarrero is the Senior Designer for PlantUs. He holds a BS in Architecture from Taubman College at the University of Michigan and an AA in Architectural Drafting from Valencia College. Dwight is a former lighting architect, and currently works at the intersection of nature and design on various scales. Additionally, Dwight is a visual artist that has trained with a handful of artist in NYC and Beijing.
Angel German is an Operations Manager for PlantUs. He has worked in the landscape field for over four years and has experience in all phases of urban horticulture, specializing in tropical plants. Angel graduated from Stonehill College with a Bachelor of Arts degree in 2013. He is detailed oriented and possesses expertise in irrigation systems. Angel understands the inner workings of urban gardens and excels at keeping plants healthy and happy.
Alan E Lopez is a labor specialist for PlantUs. He has worked in the landscape field for over four years and is experienced in all phases of urban horticulture with expertise in tropical plant care and maintenance. Alan is detail oriented and possesses expertise in irrigation systems. He understands the inner workings of urban gardens and excels in keeping plants in a healthy habitat.
Carlos Criollo is a logistics specialist and has been with PlantUs for over seven years. His expertise is in ensuring that the delivery of plant material and other supplies occurs in a timely and efficient manner. During his time with PlantUs, Carlos has been responsible for the logistical management of projects throughout the Greater New York Area and Connecticut.